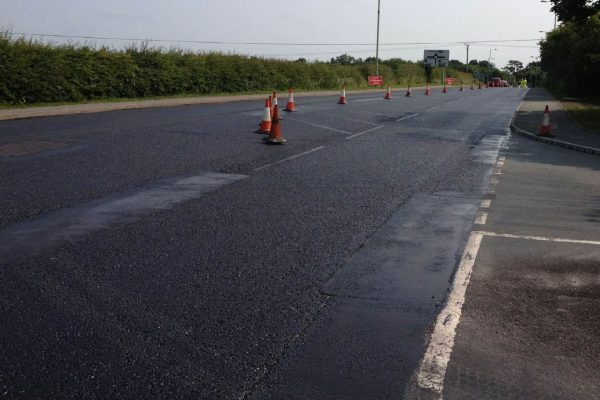 Road Sealing, why is it Important?
BituChem Ltd |
Road sealing is essential to protect the joints where sections of surfacing meet. This is a potential weak spot, which if untreated will start to split under traffic load and weather conditions. Using BituChem road emulsion and joint sealing products reinforces this area and shields it from the worst that the British traffic and elements can throw at it. Larger areas can also be treated and defended to improve the longevity of road surfacing once installed. Extending the length of time between maintenance through preventative measures makes the best use of budgets and resources.
Road Sealing Protection Against the Elements and Traffic Increase
Great Britain has very changeable weather patterns due to the gulf stream sweeping over us from across the Atlantic.
According to the Met office the coldest UK temperature of -27.2 °C is shared between 30 December 1995 and 10 January 1982 in Altnaharra in Northern Scotland and Braemar, Aberdeenshire respectively.
The all-time UK record is 38.5C (101.3F), set in August 2003, and the highest July temperature was 36.7C (98.06F) in 2015 at Heathrow.
Cardiff is the wettest city in Britain, experiencing a soaking 1152 mm of rainfall annually.
London is the country's driest city, with this trend continuing through Essex, Kent and Cambridgeshire.
Keeping roads maintained, sealed and protected against the broad range of conditions highlighted above stops the sub layers from degrading. These are far more disruptive and expensive to repair should the surface be breached.
Geographically we are a diverse island nation with mountains in Scotland, northern England and Wales. Rolling countryside and farmland is punctuated by towns, villages, cities and major urban expanses like London and the West Midlands. Increases in traffic volume and varied environments puts the UK road system under tremendous strain.
According to the UK Government's Road Traffic Estimates: Great Britain 2017, "In 2017, 68.7 billion vehicle miles were travelled on Great Britain's motorways, 10% more than 10 years ago." The highest level of traffic is found in the South East of England at 43bn vehicle miles, and this trend is set to continue rising. The number of vehicles on the road is predicted to increase by between 17 and 51 percent in the 35 years from 2015 to 2050, according to a Department for Transport study.
Road Sealing and Waterproofing Products from BituChem
Bearing all the available data in mind, road sealing and waterproofing products are essential for road preservation. BituChem can supply bituminous products for sealing the edges of freshly laid sections of asphalt during road repairs. Or for existing roads we manufacture and deliver innovative highway preservation and micro asphalt products, ensuring that our road network can be kept in optimum working condition. Contact us today to discuss your road sealing and protection requirements.