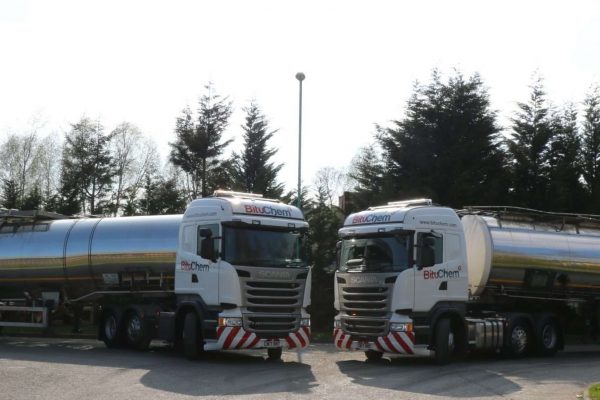 New Image Reflects BituChem's Growing Position In Two Major Markets
BituChem |
This month sees the launch of a brand new image and identity for the BituChem Group, one of the key players in highways surfacing and hard landscaping products.
The new image is befitting of a company which has evolved and grown considerably in recent years and which is respected as an innovator as well as a problem-solver providing bespoke solutions to the needs of the two marketplaces it serves.

Retaining the previous colours of red and blue, the new logo style for BituChem projects a modern image deserving of a company as it constantly moves with the needs of the market and that is driven by customer service.  The 'B' roundel used by the company for so many years lives on as a subtle branding device attached above the new logo.
Since the company was established in the Royal Forest of Dean in 1984, BituChem has grown to a company employing 35 people with sales of some £14 million per annum.  BituChem's Managing Director, Roger Lord, commented, "We are delighted with the company's progress in recent years which has allowed us to invest over £1million in research and development to innovate new products and processes in our industry.  We are proud to launch our new image which we think mirrors our position as one of the leaders in our markets."
Alongside the new look BituChem logo, is a new brand image for NatraTex, the company's established product range in hard landscaping.   The new brand logo has evolved to convey the natural aggregates used and the range has been simplified to NatraTex Cotswold for all buff surfaces whether pedestrian or trafficked and NatraTex Colour for all colours available other than buff.

BituChem has come a long way in the last three decades or so when a handful of staff started producing highway emulsion and bituminous roofing products on two acres of land leased on a small industrial estate.  Today on a purpose-built six acre site with heavy investment in research and development and production facilities, BituChem works with highways engineers and landscape architects to supply specialist surface subcontractors with the right product for a host of applications in road and landscaping.  The company provides all of its customers, whether multi-national blue chip organisations working in the Far East or small local SMEs, with products that are the best available on the market and with a professional and friendly service that is second to none.
Innovation is the key to all that BituChem does and the company continues to listen and respond to what its customers tell them they need.  Latest examples are PolyBond Duo, a multi-use polymer-modified bond coat developed in collaboration with a major customer; LockChip, an innovative sealed surface dressing system; and AirPatch, its bespoke emulsion designed to be chemically compatible with aggregrate that is being used to undertake a pothole repair.