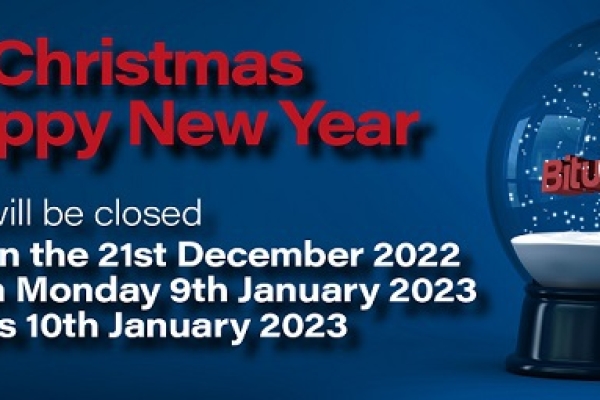 Merry Christmas & Happy New Year From BituChem
BituChem |
To all our cherished customers, partners, friends, and family, we would like to wish everyone a very Merry Christmas and a Happy New Year on behalf of the team here at the BituChem Group. 
2022 was a successful year for us, we undertook many rewarding projects and had the opportunity to meet new customers. We hope to continue what we do best and we're looking forward to what 2023 will bring. But before the new year, it is necessary to detail what will be happening at Bituchem for the rest of the year. 
Christmas Closures
This Christmas, our offices will be closed for the holidays from 12pm on Wednesday 21st December until our reopening on Monday 9th January and we'll return for deliveries on Tuesday 10th January. When we return in the New Year, you can be sure that our dedicated team will be ready to get back to work and provide another year of high-quality road surfacing products.
Contact BituChem 
BituChem manufactures high-quality surfacing products for highway repairs, pavement waterproofing, and more.
At BituChem, we pride ourselves on having a strong and long-lasting reputation with our customers and partners. Over the years, we have established a trustworthy and cooperative reputation with all our associates, and we are keen to develop this further in the new year . The projects that we work on vary from massive to small. Hence why a reliable relationship between supplier and customer needs to be present in order  achieve the best result possible. We provide bespoke professional solutions for your highway preservation, pothole repair, and road surfacing requirements.
For more information about BituChem, or enquiries on any of our products, get in touch with a member of our team today. We will be delighted to answer any questions you may have.