Road repairs are an essential part of keeping today's traffic moving. All roads and highways are inspected regularly to assess their safety and condition. Whether preventing surface degradation or addressing surface defects. BitChem Asphalt Limited has an impressive portfolio of highway preservation products to deliver hard wearing, and cost-effective road repairs.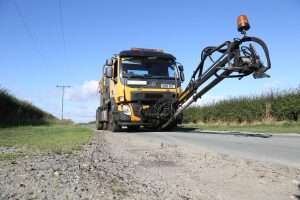 Solutions for Road Repairs
The most common form of damage to the road surface is the pothole. Multiple small scale road repairs can be safely and quickly achieved through BituChem's patching materials. Airpatch, EasyPatch and DragonPatch are all polymer modified bespoke highway emulsions.
Repairing and resurfacing large highway sections can be achieved effectively with BituChem's highway preservation products. Surface dressing treatments like LockChip will seal down the aggregate. This deters water damage, improving the longevity of the surface, prolonging the need for road repairs in the future.
Our products break quickly meaning a swift completion and the carriage way opened sooner. With some types of repair systems, the road network can remain open or partially open while repair work is carried out. Take a closer look at our surface treatment and highway repairs in our featured case studies.
BituChem Products for Road Repairs
Founded in 1983, BituChem is now established as a leading provider of innovative surfacing products for road repairs. Working with many customers around the world to supply them with the highest quality emulsions and bond coats. We have built a reputation for being trustworthy and straight forward to do business with. Our collaborative approach plays an important part to ensure that many construction and repair projects are successfully completed on time, and in budget. If you would like to know more about any of our solutions for road repairs, then please contact us contact-us today.
Knowledge Hub
Learn more about road repairs and maintenance product from BituChem at our dedicated Knowledge Hub!